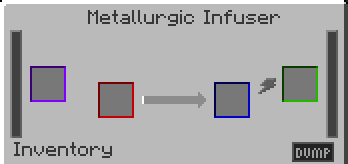 The metallurgic infuser is used to combine different metals and ores into new materials. Two items go in on the left side of the GUI, and when it receives power, it will turn the items into something new. When putting ingredients in the left slot, they will fill up the left bar, and cannot be retrieved from there. To empty the left bar, press the DUMP button on the GUI.
Recipes for the metallurgic infuser:
First item goes in the 1st slot, second item in the 2nd slot, output comes from the third slot of the metallurgic infuser.
Bio Fuel     + Stone Bricks        = Mossy Stone Bricks
Tin Dust     + Copper Ingot        = Bronze Ingot
Diamond Dust + Pulverized Obsidian = Refined Obsidian Dust
Coal         + Enriched Iron       = Steel Dust
Bio Fuel     + Cobblestone         = Moss Stone